Subwoofers
Subwoofers pick up where speakers leave off in the sound frequency, at about 200Hz, or middle-bass. They are specialists designed to reproduce the "thump" that you hear (and feel) in music! In order to generate these sound frequencies, subwoofers require a separate amplifier to convert electrical energy into sound and usually, the subwoofer is placed in an enclosure in order to get the best sound quality. If you don't have one now or have never had one before, subwoofers bring the music to a whole new dimension in your vehicle!
We carry a variety of sizes (from 8″ to 18″) and configurations (slim or standard) of subwoofers to provide you one(s) that best meets your vehicle space, sound quality and power delivery requirements.
Subwoofer Packages
We have a number of affordable packages which provide you a matched set of subwoofer, enclosure and amplifier. Some are matched by the manufacturer and come in a big box and the rest are either pre-packaged by us or custom engineered for your specific installation.
Custom Subwoofer Enclosures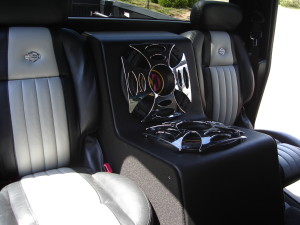 Enclosures come in a variety of sizes and shapes. We carry standard hatchback wedges and larger boxes in both sealed and vented configurations to fit into your trunk. We also have a selection of under-seat boxes for trucks. If it doesn't exist or doesn't fit quite right, we can also design and build you a custom enclosure for your car out of wood, fiberglass or both.
Schedule a Consult: 919-779-8755